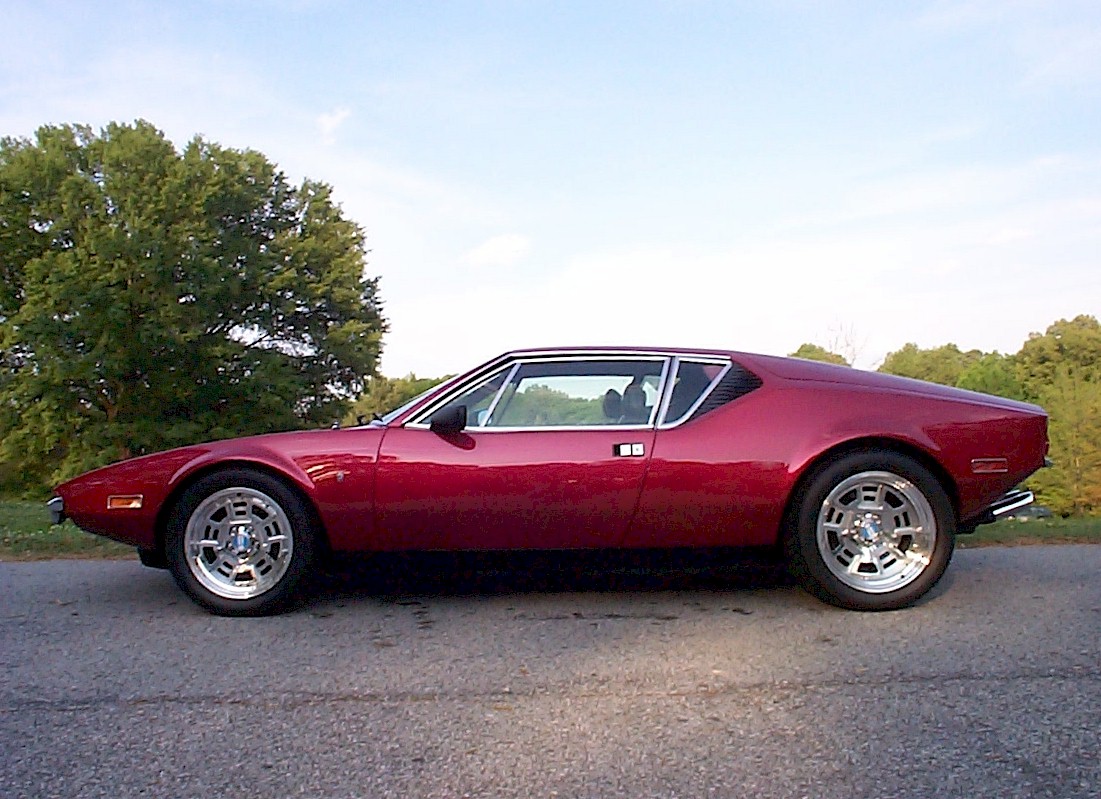 DeTomaso Pantera
Alejandro DeTomaso was born in Argentina into a wealthy Italian family who owned a large tract of land they used as a cattle ranch. His dreams were not of raising cattle though. He aspired to be a race car driver. By the 1950's he was living his dream driving borrowed cars in local races. He left for Italy in 1955 and in 1959 he and his wife, an American race car driver, started DeTomaso Automobili in Modena. At first they built race cars for Formula 2 using Maserati engines and later moved to Formula 1 with cars powered by Alfa engines.
DeTomaso desired to be like Enzo Ferrari and build road cars that used technology and inspiration from his race cars. First was the fastback Vallelunga which debuted in 1963 and was powered by a Ford 4cyl engine. Later came the bigger Ford V8 powered Mangusta styled by Giugiaro. Finally in 1969, DeTomaso was ready with the replacement for the Mangusta which he called the Pantera.
The Pantera kept with the DeTomaso trait of featuring beautifully designed exotic bodies combined with American (Ford) powerplants. The Pantera was the first DeTomaso to feature a full monocoque chassis layout. Power came from the new 5.7L Ford 351 Cleveland engine with a 4 barrel carb rated at 310HP and mated to a ZF 5 speed transaxle with limited slip differential. Fully independent suspension was used front and rear as well as 4 wheel disc brakes.
Luckily for DeTomaso, in 1969 Henry Ford II was still very upset over being rejected by Enzo Ferrari in Ford's failed attempt to buy the Ferrari marque. Ford still wanted an Italian company and since they also had a business relationship with DeTomaso from supplying engines, an agreement was made between the two companies to join together. Ford bought a portion of the DeTomaso company and set about plans to market the Pantera for sale in the US.
The first models were delivered in 1971 and, unfortunate for the company, they had some initial teething problems which led to a recall and a reputation for being unreliable. Early 1971 and 1972 models featured small chrome bumperettes in the front and rear. The 1971 Pantera could accelerate to 60 MPH in 6.8 seconds and cover the 1/4 mile in 14.5. Top speed was 129MPH.
In 1972 the L (luxury) model was introduced featuring improved cooling, air conditioning and other comforts. 1972 also saw the use of a lower compression Ford 351C rated at only 248HP due to lowering the compression ratio to meet changing US emissions standards. The L model continued through 1973 and a new GTS model was introduced in 1974 which featured more luxury features along with flared fenders and blacked out exterior trim.
Pantera GTS
Unfortunately, by 1974 the Pantera's time in the US was done. At the end of the year Ford and DeTomaso parted ways with ownership now back in the hands of Mr. DeTomaso. Production however continued on a smaller scale for markets outside of the US. The Pantera GT/4 sported larger fender flares and was based on the 1972 - 1973 Group 4 racing cars . The GTS and Group 3 versions were also offered along with the L model, which was now the standard base model, and customers could customize their orders as they wanted.
Pantera GT5
In 1980 the GT5 Pantera was introduced sporting revised aerodynamics including a deep front air dam, rocker extensions, larger fender flares and a wing spoiler similar to the one found on the Lamborghini Countach. GT5 Panteras could hit 60 in 5.4 seconds and the 1/4 mile in 13.6. The GT5 was updated to the GT5-S in 1985 which was the first significant body redesign since the car's introduction. The front and rear fenders were even wider, air intake grills on the sides were added, and the nose was revised. The interior also changed adding upgraded air conditioning, a new console layout, new leather, better carpets and wood accents.
Pantera GT5-S
Finally in 1989, DeTomaso contracted Marcello Gandini, who had designed the Lamborghini Miura and Countach, to refresh the Pantera for the 1990s. What he came up with was the final form of the Pantera, called the Si. All of the lower body was newly designed along with an integrated wing at the rear. The car wore larger 17 inch wheels and Brembo brakes. The car was built on a mostly tube frame chassis to reduce weight and add rigidity. New suspension and drivetrains were also added to the new design. Beginning in 1991 the cars switched to a computer controlled 305HP 5.0L fuel injected Ford V8 attached to a ZF 5speed transaxle. Two cars were fitted with a Getrag 6speed. The last Pantera was built in 1993 after a total of 41 of the final design cars were sold. Four of those were converted during manufacturing to targa models with a removable roof panel.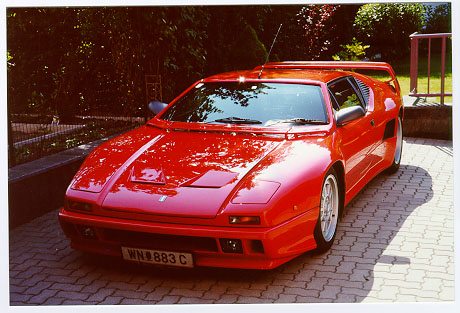 Pantera Si
The Pantera was in production for 25 years and remains one of the most beautiful exotics designed. It is also one of the more affordable and reliable exotics around due to it's use of off the shelf, simple Ford V8 engines. They are far cheaper to maintain than any of the other Italian exotics and just as exciting.
Alejandro DeTomaso passed away on May 21, 2003 and his dream went with him. Shortly after his death the company he founded entered bankruptcy and eventually folded entirely in 2006. The Pantera is his company's greatest achievement and truely an amazing car.
Pantera Si Targa